Still trying to catch Up….
Talk about last minute. I finished my son's Pre-K teacher's gift, literally 5 minute before school ended. I had done most of the work over night, but just couldn't stay up all night. So I gathered all the material I would need to finish the album while he was in school – about an hour. Went to the park, sat down and worked at the speed of light. I finished it with 5 minutes to spare – just enough time to go pick him up. The album included pictures taken throughout the year, I removed those for publishing here – privacy issues - and some poems I found on 2peas.
Entire Gift:


Please don't mind the diaper bag…remember I took these at the park.
Close Up: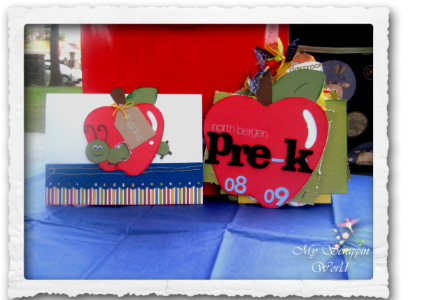 Thank You Card:
You'll hear me say this several times throughout the blog – I'm horrible at cardmaking! The card below is a complete scraplift from Tracy at Scrap Happens. She has the best cards I've seen. She's just amazing! When you get a chance, check out her blog – Scrap Happens.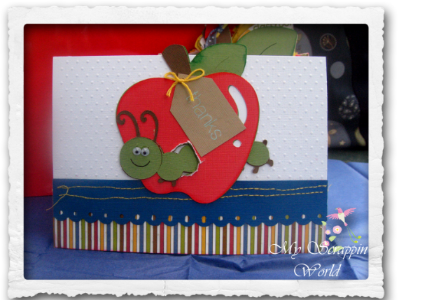 Supplies:
American Craft 5x7 Card & Envelope
Cuttlebug Swiss Dot Embossing Folder
Doodlecharm Apple
Strecth Your Imagination Caterpillar – I didn't like the original head, so I Design Studio to weld a circle to the rest of the body.
Plantin Schoolbook Tag
Fiskars Threading Water Punch
Provo Craft Sew Crafty
KI Memories School Days Collection – Schedule
Bazzill Cardstock – Great Lakes, Guacamole, Avalanche, Carob
DCWV Cardstock – Red
American Craft Rub-Ons
Misc – Floss
Preschool Album:
A total of 16 pages.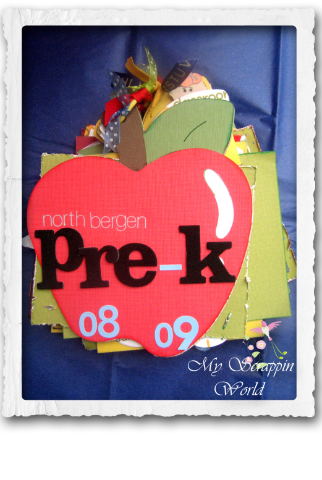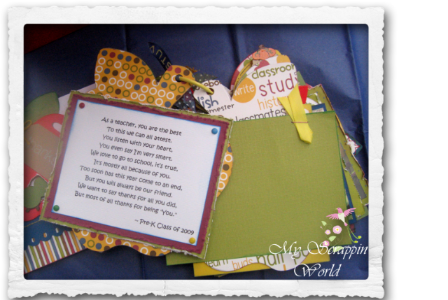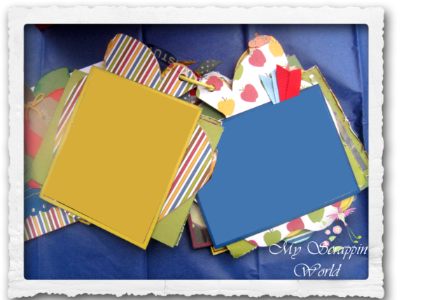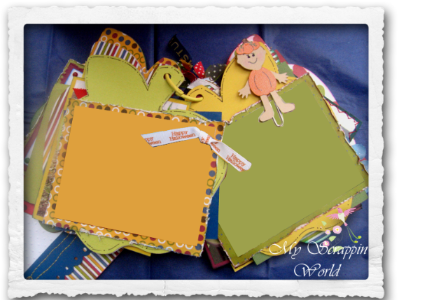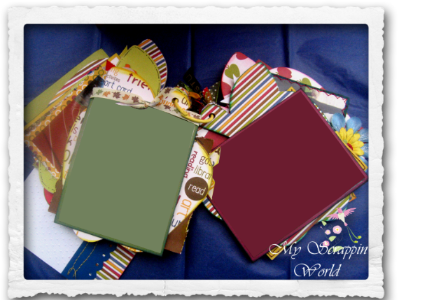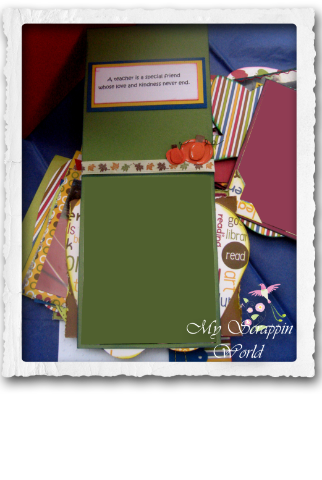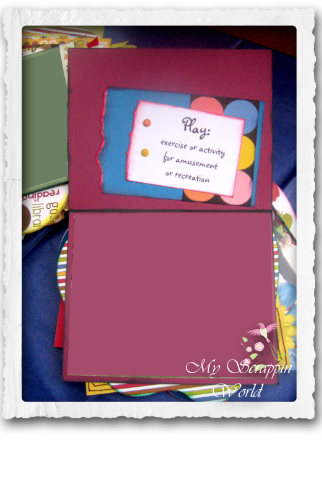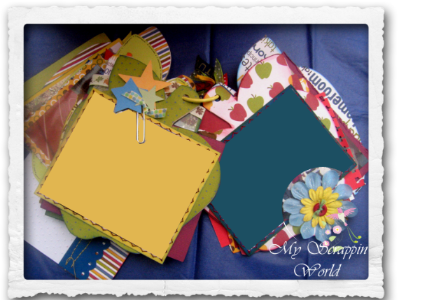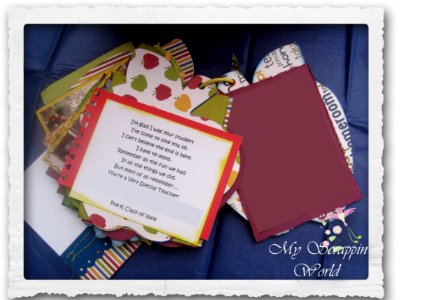 Supplies:
Cricut Expression
Cricut Deep Blade
Cereal Boxes – Yep, cereal boxes! I used Lucky Charms.

American Craft Rub-Ons
American Craft Thickers
Doodlebug Hopscotch Stickers – Bubble Blue
Bazzill Cardstock – Great Lakes, Guacamole, Avalanche, Carob, Brandywine
DCWV Cardstock – Red, Green, Yellow,
KI Memories School Days Collection
Making Memories Brads
Pumpkin Girl PaperClip – Swap Item
Stars Paperclip – I made it myself using stars from Plantin Schoolbook
Play Tag – Swap Item
EK Success Photo Corner
EK Success Binding Edge Punch
Heidi Swapp Edge Distresser
ZIG Pen
Misc – Ribbons, Ring, Staples, Ink, Flowers, Floss, Button
TFL!