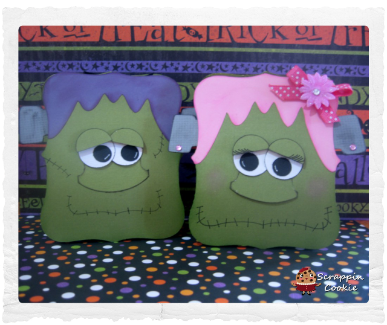 After seeing several of them done with SU! products, I decided to give them a try using Design Studio and the Cricut Expression. And in my attempt I used up a total of
4 carts
! I designed them to go along with my
Candy Apple Box
. All pieces for assembling them are in the .cut file. The file is set up to cut out 4 Frankies - cutting out the "Faces" Tab twice.
Oh! my orginal nose was/is an oval -thats what you will see in the .cut file. But I wasn't liking the way it looked so I designed something similar to the
SU! Round Tab Punch
that I've seen used with these. I'm still working on that file, so I'll share that later with you.
Mr. Frankie
I think he is rather handsome. Hair is from the Paper Dolls Dress Up Frankenstein enlarged to fit. I His eyelids are the 1" circles cut in half and raised using pop-dots dots. I hand drew the scars and mouth.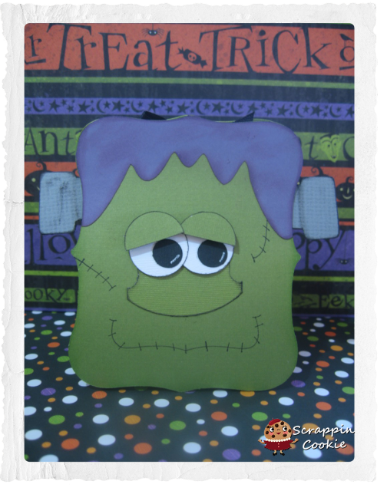 Mrs. Frankie
I made her to look girlie - at least I hope. Hair is from PPDU, but a bit longer than Frankie's. Eyelids are 1" circle cut in half and raised with pop-dots. Eyelashes and mouth are hand drawn. Tied a glimmer misted flower bow to her hair. And gave her rosey cheeks.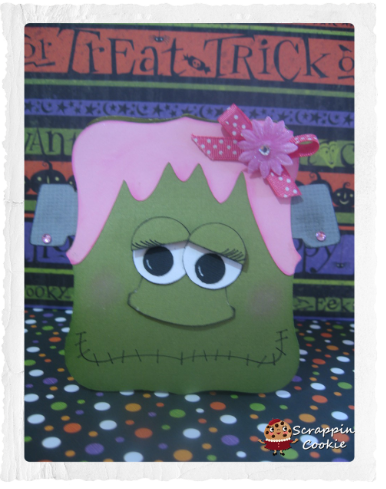 I also added hair and a few stitches to their backs. I just couldn't leave them naked.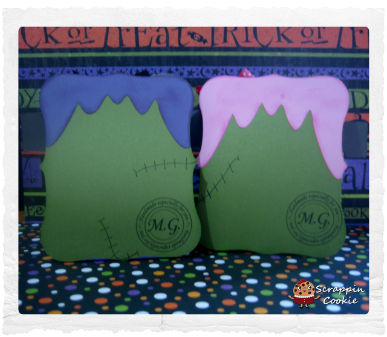 Supplies: Candy Apple .cut file, Mr. & Mrs. .cut file, Design Studio, Cricut Expression, DCWV Cardstock(green), Bazzill Cardstock(white, black, grey), Pearl Glimmer Mist, Prima Flower, Heidi Swap Pink Jewels, ZIG Black Pen, Marvy White Gel Pen, Misc. - Inks, Ribbon, Chalks
.cut File Preview
Use this as a paper placement guide. The "hair" on his tab is for Mr. Frankie and you get two cuts. Repeat cut if you need more.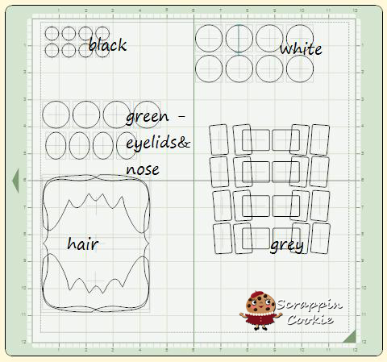 Next, is Mrs. Frankie's Hair. In order to save paper, just use a piece of 4.5x3.25 paper. I have outlined the area where the paper should go.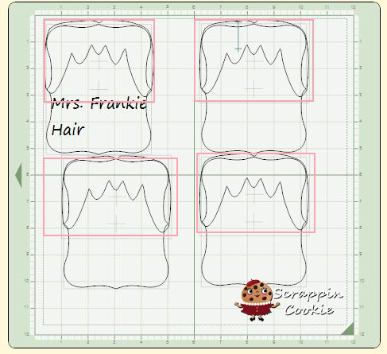 Mr. & Mrs. Frankie
Please request file by leaving a comment with email addy.
*Accent Essential
*Plantin Schoolbook
*Paper Doll Dress Up
*Doodlecharms
*Cricut Expression