Having the Cricut Expression I normally design using the 12x12 Mat. However, sometimes I need my design to be exactly 12x12 or bigger than what the cutting mat allows. So, while playing with both the Expression and Design Studio, I have found that if you trick them into believing that it has a larger mat loaded it will cut outside of the 12x12 cutting area.
Lets use my
Candy Apple Box
for example. I designed two of the boxes - 2.5x2.5 Scalloped Edge and 2.5x2.5 Plain Edge - to be outside of the cutting area.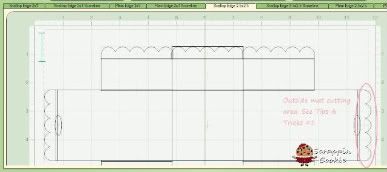 When cutting out either of those two boxes or anything that is outside of the cutting area, simply change the mat size to 24x12. This makes the mat larger therefore, the design is no longer outside the area.
Then turn to your Cricut, load your 12x12 mat and select Mat Size. That should change your mat size to 24. Go back to Design Studio and click CUT. (I don't have any pictures available right now, but I'll be back with those.) And that little Trick should allow you to cut a 12x12 strip or something outside the cutting area.
Please let me know if you have questions.