I am NOT a Cardmaker! I know you've heard me say this before and I'll say it over and over again. But apparently my mother keeps thinking I am – she asked me to make her a wedding card. I don't know what it is about cards, but I'm at a loss when it comes to sitting down and creating one. So what did I do? I turned to one of the most creative, talented Cardmakers I know –well, not personally – Ms. Tracy Gough from Scrap Happens. She has some great cards and I automatically thought about her Mr. & Mrs. Ampersand Card. She was so kind and let me have her Mr. & Mrs. Ampersand Card .cut file. Here is my interpretation of her card.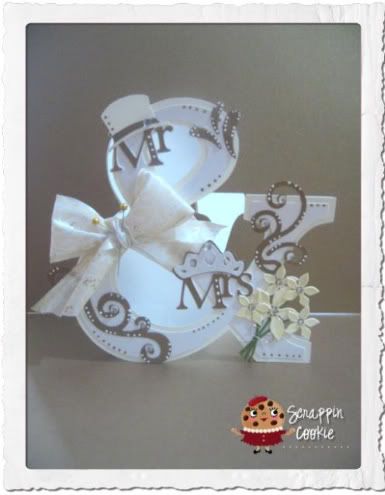 Yep, I pretty much CASED her design, with the exception of a few things. Her card is originally made with the Wedding Solution Cart, which I don't have. So I substituted the Groom's Hat for the one in PDDU and the Bride's Tiara for the Dancer's Tiara on PDDU. The swirls are from Sizzix Sizzlits Scribbles Swirls Die and the bouquet is from Jolee's Boutique – Cream Floral. What I loved most about Tracy's card – of course, besides the design – was the little black and white dots. I have no clue how she did them, I'm thinking white gel pen and ??. So for mine, I simply used Acrylic Paint! I dipped the tip of an old dried up fine point pen into the cap of the paint bottle and gently added the dots.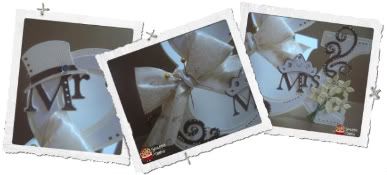 A special thanks to Tracy for creating such a beautiful card!
Supplies: Mr. & Mrs. Ampersand .cut file, Design Studio, Cricut Expression, Wausau Paper(White Gold on Noble White, King's Gold on Golden Crown), Bazzill Cardstock(French Vanilla), Delta Ceramcoat Acrylic Paint(White, Metallic Kim Gold), Sizzix Sizzlits Scribbles Swirl Die, Provo Craft Cuttlebug, Jolee's Boutique Cream Floral, Misc. – Pins, Ribbon, Gems
Thanks for Looking!