This idea was born thanks to an online Crop. The challenge was to create something for yourself. I immediately thought about making some cute and little note cards. I'm always in the need of those. Although these are not the original it all developed from there.
The note cards were made from an 8½ x11 sheet of cardstock cut into quarters, where each note card measures 4¼ x 5½. I then added a layer of 4 x 5¼ printer paper, 1½ strip of PP, a ¼ inch scallop border cut from the Plantin Schoolbook Cart and the Scalloped Circle is from Mini Monograms. That cute turtle is Whimsie from Whimsie Doodles. They have the cutest digital stamps, check them out! I colored it in digitally and then printed it out on cardstock.
No set is complete without a cute packaging. And this one is was no exception. So I started playing around and created a cute little box to go along with them.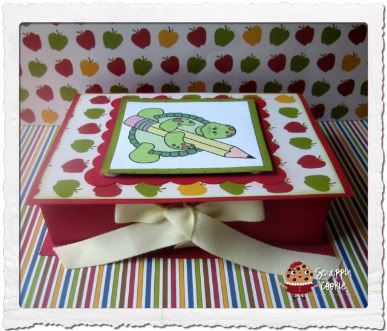 The box is made from one sheet of 12x12 cardstock and a 7x12piece of cardstock for the lid. In the .cut file I have included 3 different types of covers for the box, the lid – which is the one I used, a Cardstock or PP cover, and a cut for an Acetate Cover. I hope to be able to cut these out soon.
For now, here are a few pictures of the box using the lid cover. The lid is adhered to the side and bottom of the box using double-sided tape.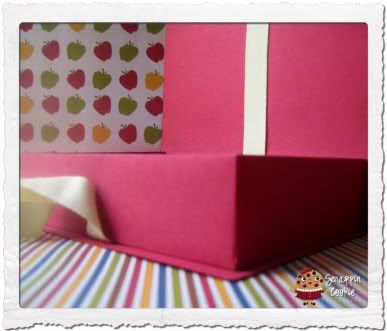 I was able to fit 12 note cards and envelopes, but I'm sure A LOT more fit.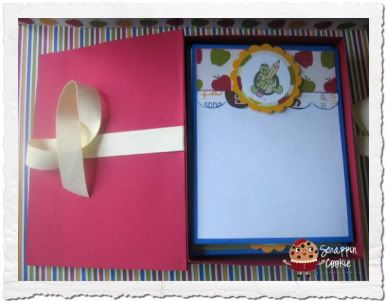 And since the box fits a note card measuring 4¼ x 5½, which the same as a Standard Sized Card, I have named this box the A2 Card Box.
Supplies: A2 Card Box .cut file, Design Studio, Cricut Expression, AC Moore Cardstock(Red, Blue, Yellow, White), KI Memories School Days PP, Whimsie Doodles Digital Stamp, 3D Pop-Dots, Misc. – Ribbon, Ink



A2Card Box


Please request file be leaving a comment. Don't forget your email addy.
*Plantin Schoolbook
*Accent Essential (for embellishemnt only)
Thanks for Looking!