Just when I think I sit down and start working on a new .cut file I have in mind, I get a request for a few more cards. Want to guess by whom? Yep, my mother! This time it's for a Church Anniversary and a group of students who recently completed their Biblical Study. And guess what? These will be shipped to ARGENTINA!
Knowing this, I course wanted the cards to be EXTRA SPECIAL. I started looking for ideas and finally decided upon the ShadowBox Card. I found a great tutorial on SplitCoastStampers by Dawn Griffith from Dawn's Stamping Thoughts. Dawn's ShadowBox Card measures just like a Standard A2 Card (4¼" x 5½"), fits into an invitation envelope and uses the Coluzzle. I needed something a bit bigger to fit the "image" I had in mind and I don't have the Coluzzle cutting system. So I created a .cut file that would cut out a 5"x7" card with the window opening. This is what I turned out with: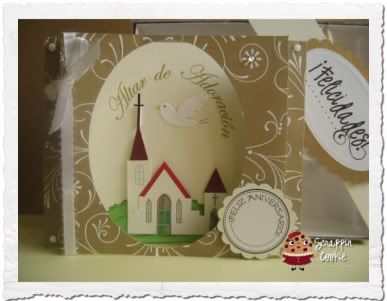 I used Microsoft Word to add the name of the church to the background cardstock. The Church and Dove are from A Touch of Jolee's - Church Dimensional Stickers and the grass is from PDDU. The Spanish sentiment reads "Happy Anniversary" and was made by Melyssa from Whimsie Doodles. So a very SPECIAL THANKS to Melyssa for doing those cute sentiments! The sentiment is on top of a Mini Monogram Scallop Circle. I also attached an American Craft brad to each corner and tied a ribbon bow before adhering the two pieces of paper together. To add a bit more of sparkle, I added some Gems here and there.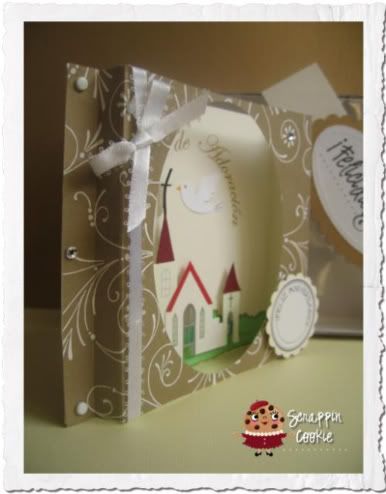 Remember I said these were going to Argentina? If I place it in a 5x7 envelope, how was I sure they would know how to "pop up" the card to see the ShadowBox effect? I decided to create a cute box for the card to fit into.
That brings me to tell you a little bit more about the .cut files. This project comes in 2 different .cut files – one for the card and one for the box. The ShadowBox Card .cut file is designed to cut out the top layer of the card – the one with the window opening. For the bottom layer (background piece) you can simply remove the opening or cut out a piece of 5" x 7" cardstock. The .cut file also includes several window openings (oval, circle, square, scallop circle, scallop square, top note, etc) and frames to fit around the opening. The box for the card is pretty simple. I do want to point out that it DOESN'T include the band that I placed around it. I made the band using two pieces of 1½" x 8 ½" cardstock scored at 3½" and 5"and hid the seams behind the scallop oval from the Alphalicious Cart. The sentiment on the band reads "Congratulations" and was made by Melyssa from Whimsie Doodles.
Here is what it all looks like put together
Supplies: ShadowBox Card .cut file, ShadowBoxCard Box .cut file, Design Studio, Cricut Expression, Mini Monogram Cart, Alphalicious Cart, Paper Doll Dress Up Cart, Stemma(On Our 50th), Wausau Paper(King's Gold on Golden Crown), Bazzill(French Vanilla), AC Moore Cardstock(White), A Touch of Jolee's – Church, Whimsie Doodles Spanish Sentiments, American Crafts Ribbon, American Craft Brads, Misc. – Gems, Acetate Sheet



ShadowBox Card


Please request file by leaving a comment.
*Plantin Schoolbook (all window openings and base)
*Mini Monogram (scallop circle and scallop square window opening only)
*Accent Essential (scallop square and top note window opening only)



ShadowBox Card Box


Please request file by leaving a comment.
*Plantin Schoolbook (version1)
*Accent Essentials (version2)
Thanks for Looking!