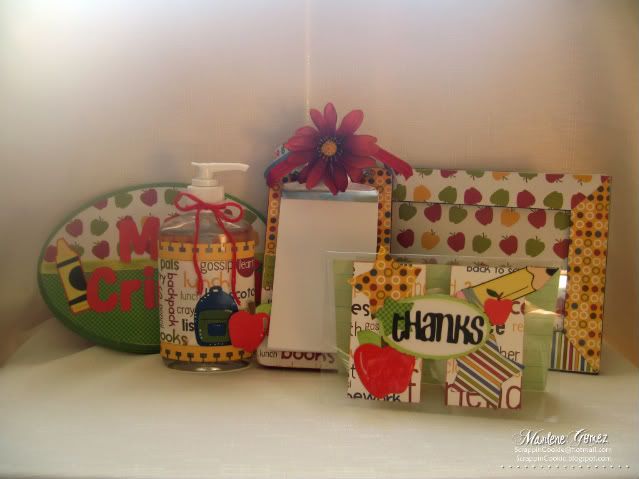 As promised, here is the project that took 50 shots and still didn't give me a decent looking picture. I made this little gift set for my son's Kindergarten Teacher for Teacher's Appreciation Day on May 5th - yes, I'm a bit late posting. Inspiration for this gift set came from ACOT's Creative Team Member
Miranda's(LoveMyBella) Teacher Gift Set
. When I saw this cute gift set I knew
it was exactly what I wanted to make for DS's teacher and the added bonus was I already had the KI Memories School Days Collection. My set varies a bit from Miranda's, but I really love the way it turned out.
The photo frame came from the Dollar Tree and was decoupage using 3 different papers from the KI Memories School Days collection, Imgaincse Let's Pretend Polka Dots, and a Cricut Doodlecharms Apple.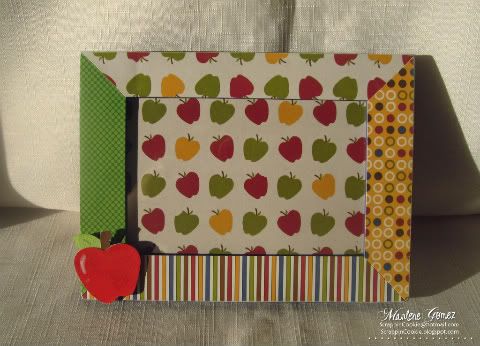 The Clipboard came from A.C. Moore and was decoupage with School Days Test Form and Daydream papers. I found a teacher definition online, typed and printed it out on School Days Test Form back side and added a notepad.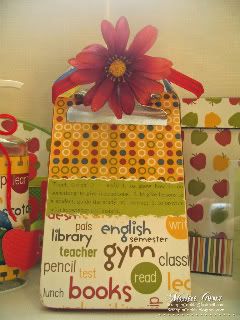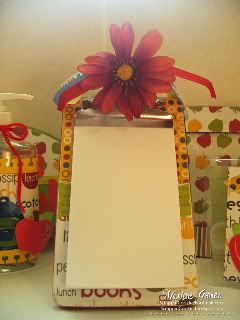 What teacher doesn't need a bottle of hand sanitizer? I took the School Days Daydream paper and wrapped around the bottle. Punched two strips of yellow cardstock with EK Success Binding Edge Punch, cut out a backpack and apple using Cricut Doodlecharms and tied a floss around the neck of the bottle.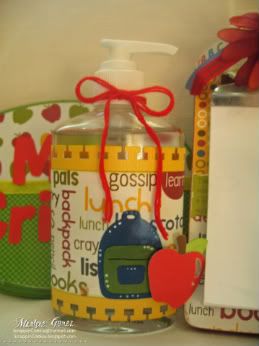 The name plaque came from A.C. Moore and I painted it a light green and decoupaged it using School Days Teacher's Pet and Imaginsnce's Let's Pretend Polka Dot paper. Added a misc. piece of yellow ribbon and a crayon cut-out from the Cricut Locker Talk cartridge.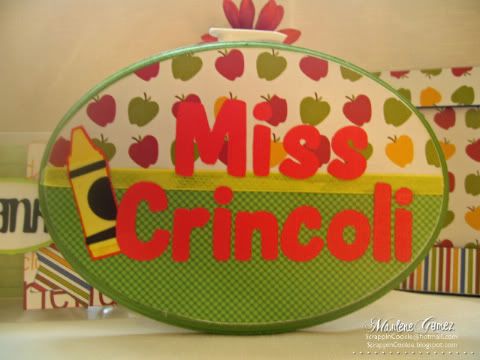 And to finalize the gift set, I CASE'd a card I saw on
Whimsie Doodles
by
Joni
. I missed out on getting Whimsie Doodles' Back to School Digital Stamps, so I resorted to what I know best - using my Cricut.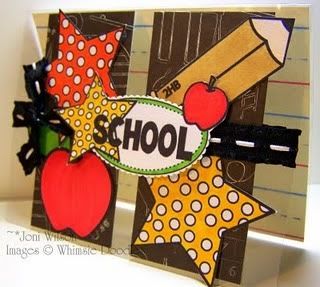 I used quite a few carts to re-create this card.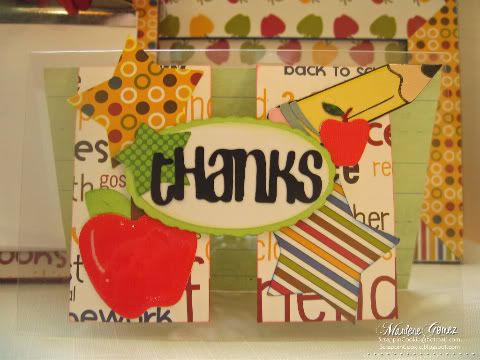 The stars and smaller apple come from Plantin Schoolbook, the pencil from Locker Talk, the apple from Doodlecharms, the scalloped oval from Alphalicious, and the 'thanks' from Don Juan. A total of 5 carts! For the base I used Grafix's Clear Craft Plastic - it's just like acrylic sheets.
I had lots of fun and stress doing this gift set, I hope you have enjoyed seeing this little project.