As we all know I'm a very bad blogger and so, today I have a birthday card I made for DH's niece about a month ago. She turned 13 and I knew exactly what card I wanted to do for her -
Donna's Teen Queen Card
. I love all the details and layers that Donna adds to her cards and projects. If you haven't seen her blog -
Popsicle Toes
- which I'm sure you have, you really should stop by. You'll be amazed by her work.
I really like how my version of the card turned out. I did have to tweak around with the design a bit, as I didn't have all the carts it required. I replaced the Hearts with those from Plantin Schoolbook and the crown for one found on the Paper Dolls Dress Up cart. And added Dew Drops/Skittles instead of pearls.
I used Doodlebug SugarCoated Cardstock to cut out the crown - which I'm surprised that I got a nice and cleaner cut with it than regular patterned paper. The background and hearts were cut using Basic Grey Urban Prairie and the 13 was cut using Frances Meyer Small Dots - Pink paper. The base and mats were cut using Bazzill Guacamole Cardstock. I also used EK Success 3-D Dots for the layers and dimension, but next time I will follow Donna's advice and make my own pop-dots using 1/16" foam and my xyron. Just look how horrible the white pop-dots look with the green and pink layers.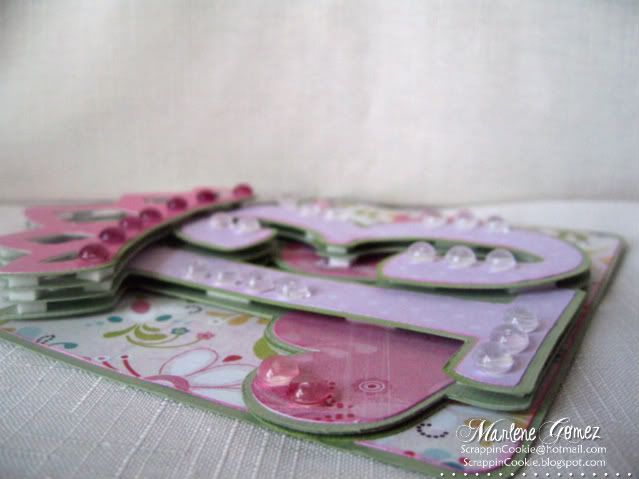 I'd like to thank Donna for creating such a great card and file. If you'd like to get the .cut file, please visit Donna's Blog -
Popsicle Toes
or her projects on
Custom Crops
.
Supplies Used:
Teen Queen Card .cut file, Bazzill Guacamole Cardstock, Basic Grey Urban Prairie, Doodlebug SugarCoated Cardstock, EK Success 3-D Dots, Dew Drops/Skittles