I know I said I was going to share this card with you yesterday, but things don't always go as planned. I ended up running a few errands and didn't get the chance to write up the post. So I'll share the card and story with you today.
Back on June 4th, DS#1 came from school with an invitation to a small classroom birthday party for one of his best friends and should I say Kindergarten Love! He - very sweetly and a glow in his eyes - asked me to make something 'special' for his friend. What else could I do than accepted? The invitation was Princess themed and although my card isn't that Princessy, I think it turned out pretty cute.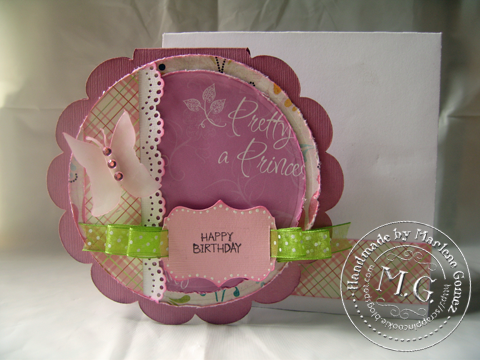 Inspiration for this card came from the
Mojo Monday 141
sketch, but was never actually sumbitted. Unfortunately, I don't have any carts that have a scalloped card, so I resorted to creating my own using Studio and Plantin Schoolbook. I also used Storybook for the butterfly and label.
The inside of the card uses a sentiment from the
Another Year Older
WordArt collection by
Verena Karolyi
. And a princess crown from the Paper Doll Dress Up cart cut using Doodlebug's SugarCoated Cardstock. I also used the Don Juan cart to add the swirl underneath the sentiment. Using the Stitched Feature, I had the holes pierced on a scrap pieces of paper and then traced them onto the card and followed the pattern using a white acrylic paint pen.
As a finishing touch I added a nice spray of Pearl Glimmer Mist to the front of the card. Sorry for the horrible picture, but its the only way to see the glimmer on the card.
Now, no card is complete without a matching envelope. Again using Design Studio I created an envelope and liner for this scalloped card.
Design Studio, Cricut Expression, Don Juan, Plantin Schoolbook, Storybook, MS Doily Punch, Basic Grey Urban Prairie Collection, Bazzill Berry Blush Cardstock, Bazzill Vintage Mauve Cardstock, Bazzill Avalanche Cardstock, Doodlebug Bubblegum SugarCoated Cardstock, vka_OneYearOlder WordArt, Heidi Swapp Pink Jewels, Heidi Swapp Edge Distresser, Offray Ribbon, White Arcylic Paint.
.Cut File is available via comment request. The .cut file comes in the form of a .zip file and includes pictures, TOU, and .cut file. Also please leave a comment here letting me know you have downloaded my file. I'd love to see your finished projects, so don't forget to send me some pictures.
Thanks!