For today, I have a few graduation cards I made back in June. My youngest sister graduated High School on June 23rd and I
HAD
to make her something special. I'm soo proud of her...she is such a hard worker and I'm sure she will achieve everything she desires.
I'd never done a Graduation Card before and I knew I wanted this one to be extra special, so I went to Scrapbook.com for some inspiration. I ended up CASEing two cards from the gallery.
My first card - pictured above - was inspired by
Anderjackie's Congrats Grad Card
. I loved the shape of card and the swirl die-cut she used in the background.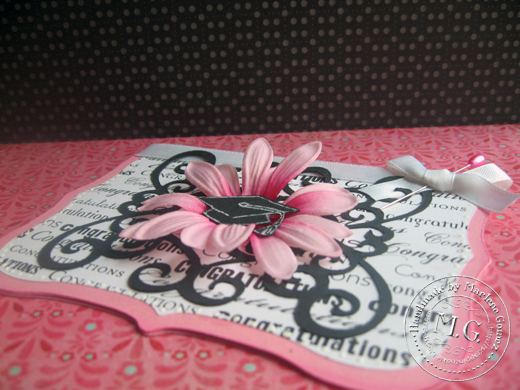 To get the Top-Note shape I welded two of the
shapes together using Design Studio. My swirl die-cut comes from the Storybook Cartridge and the graduation cap comes from Locker Talk. The pink flower actually comes from a silk floral stem found in the A.C. Moore Floral Aisle. The 'Congratulations' paper comes from an older DCWV Stack. The inside sentiment is a digital wordart from Kathy Winters' Graduation Inspiration.

For a few finishing touches, I added a few acrylic white dots, some ribbon and a stick pin.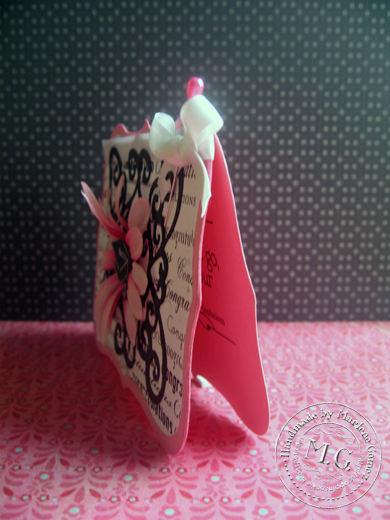 I wasn't completely finished with the card above, when I had a feeling it wasn't what I was looking for. So I got inspired by a second card I saw on Scrapbook.com -
Amarilys' Graduation Card
. I loved the elegance of the white and black with a touch of silver.
For my card, I knew I wanted to add some pink - afterall, I don't always get to scrap with pink - but keep the black & white feeling.
I used the same base as the card above, just rotated it. The leafy branch, butterflies, and label all come from the Storybook Cartridge.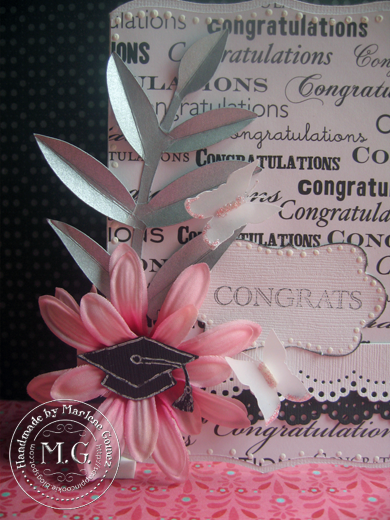 Again, the cap is from Locker Talk and the pink flower is from the Floral Aisle at AC Moore. I also used the Martha Stewart Doily Lace Punch. And some more acrylic white dots. A touch of Cotton Candy Stickles to the butterflies.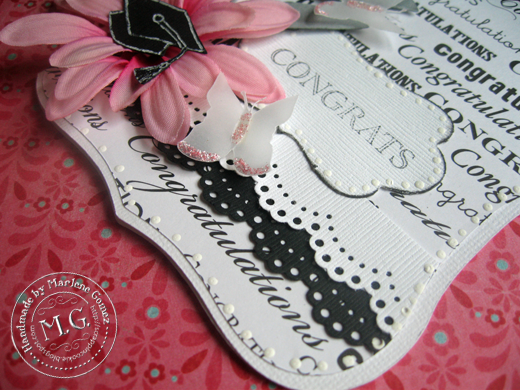 By the time I finished both cards, I LOVED them both and couldn't decide which one to give her. So I gave them both to her!
If anyone is interested, the .cut file for both these cards is available via comment request.
I also made a quick card for her High School Sweetheart, they've been together since Freshman year and he's become part of the family.
For this card I used papers from a 12x12 Graduation Specialty Paper Pad by K&Company, that I found on clearance at Target and Cosmo Cricket's The Boyfriend - Homework sheet. 'grad' was cut out using the Pooh Font Set - one of my favorite fonts - and the cap is from Locker Talk. I distressd some of the edges using Heidi Swapp's Edge Distresser Tool.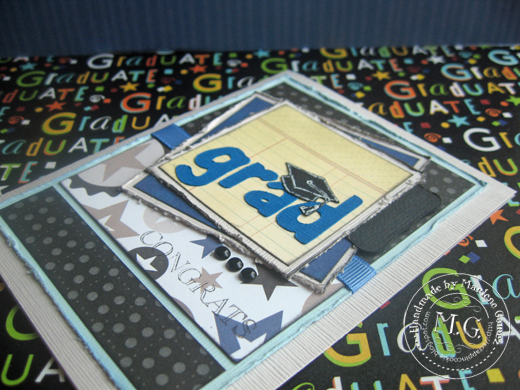 At the end of the day, I LOVED all three cards I made.
Graduation Card1 - Cricut Expression, Design Studio, Cricut Accent Essentials, Cricut Storybook, Cricut Locker Talk, Bazzill Piglet Cardstock, Bazzill Blackbird Cardstock, DCWV, Kathy Winters Design Graduation Inspiration, AC Moore Floral Stem, Misc - Ribbon, Stick Pin, Acrylic White Paint Pen. Graduation Card2 - Cricut Expression, Design Studio, Cricut Accent Essentials, Cricut Storybook, Cricut Locker Talk, Bazzill Avalanche Cardstock, Bazzill Blackbird Cardstock, Wausau Chalice Silver Cardstock, DCWV, Martha Stewart Doily Lace Punch, Cotton Candy Stickles, Kathy Winters Design Graduation Inspiration, AC Moore Floral Stem, Misc - Acrylic White Paint Pen. 'Grad' Card - Mojo Monday Sketch 144, Bazzill 'Grey' Cardstock, Bazzill Vibrant Blue Cardstock, Bazzill 'Dark Blue' Cardstock, Bazzill Blackbird Cardstock, K&Co Graduation Paper, Cosmo Cricket Homework, Misc - Ribbon, Brad