Well, the much awaited day has FINALLY arrived. Its Back to School Day and I just left my little 1st Grader in school. It was actually ALOT harder than I thought. I did shed a few tears and he held back a ton. I can't believe how BIG he has gotten. It seems like it was just yesterday that I left him in Pre-School and today he is a growing 6 year old.
Everyone is nervous and anixous the First Day of School and teachers are no expection. Just imagine what awaits for them with a classroom full of little boys and girls. With that in mind I made a Teacher's Survival Kit for DS#1's teacher.
I filled it with LOTS of through-out the year essentials for a teacher who might need a little help.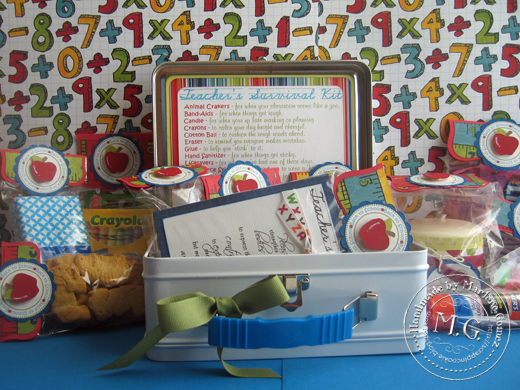 Scenic Route Appleton Collection, Bazzill 'Berrylicious' Cardstcok, DCWV Cardstock, Cricut Expression, Cricut Accent Essentials Cartridge, Cricut Doodlecharms Cartridge, Cricut Mini Monograms Cartridge, EK Success Binding Edge Punch, Cuttlebug Swiss Dots Embossing Folder, Make 'n Mold Clear Bags, American Craft Thickers, Quikutz Frankie Alpha Die, ABC Digital Kit by Crisdam Designs, Fonts: SchoolScriptDash, Kristen ITC, Murray Hill BD, Offray Ribbon, DMC Floss
Teacher Survival Kit Contents: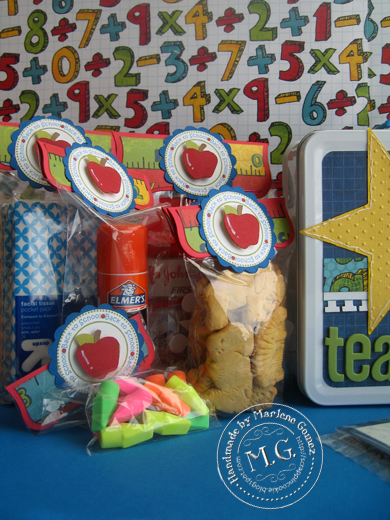 Animal Cookies for when your classroom seems like a zoo.
Band-Aids for when things get a little rough.
Crayons to colour your day bright and cheerful.
Candle for when you are up late marking or planning
Cotton Ball To cushion the rough roads ahead
Eraser to remind you everyone makes mistakes.
Lifesavers for when you've had one of those days.
Smiley Face Sticker To remind you to wear a happy face
Snowflake When all else fails, pray for a snow day!
Starburst to give you a "burst" of energy when you need it.
Tea Bag To remind you to take time to relax daily and go over that list of blessings
Tissues to wipe away the tears...yours and theirs.
Please help me,
to strengthen their voices,
bodies and minds,
to express their feelings and
and venture afar,
but most important to love
who they are.
I packaged all the goodies using various sizes of the
Make 'n Mold Clear Bags
. The Toppers were made using Cricut's Accent Essential's
, a 'Back to School' Sentiment Button I created (available upon request), and a Doodlecharms' Apple in the center. The .cut File is available upon request.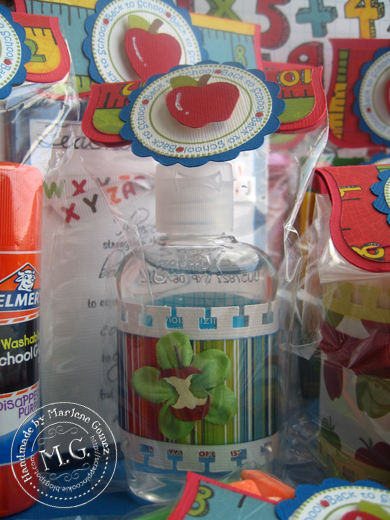 All the 'Survival Items' were then placed inside a Lunchbox Tin I found at AC Moore. The front and back of the Lunchbox was altered using Scenic Route's Appleton Collection, a Plantin Schoolbook Star embossed with the Swiss Dots Folder, a Doodlecharm Apple, EK Success Binding Edge Border Strip and American Craft Thickers/QK Frankie Alphas.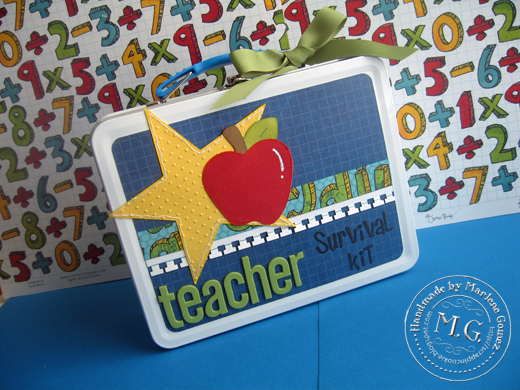 If you're interested in the Back To School Toppers .cut File or the Back To School Sentiment Button, please leave me comment here with a way to reach you.
TFL!