Cricut Expression, Cricut Design Studio, Cricut Create A Critter Cartridge, Bazzill Cardstock, Paper Doll Dress Up Cartridge, Best Occasion(Walmart) Cardstock, DCWV Cardstock, Cuttlebug Machine, Cuttlebug Divine Swirls Folder, Cuttlebug Swiss Dots Folder, Stickles 'Orange Peel', Uni-ball White Pen, Misc - Black Pen, Googly Eyes, Pop-Dots
With two beautiful days of 60 degree weather on Thursday and Friday and I definitely got a Spring feel. Which was perfect for this week's
Fantabulous Cricut Challenge
.
Challenge Me Monday #47
was all about Weather Forecast and I'm
SOO
ready for some Spring Air.
I decided to go with a 5x5 Spring Canvas. I first laid everything out using Design Studio. Everything but the grass - which is from Paper Doll Dress Up - is from Create A Critter. I inked all edges and then doodled some stitches. Some pieces were embossed and others were pop dotted.
The following were cut out at 2"
*Sun
*Tulips
The following were cut out at 1"
*Clouds (3 small ones)
*Butterflies
The Large Cloud was cut at 1.5" and the grass was resized to fit in the 5x5 square.
The "Spring is in the Air" sentiment was quickly created in MS Word.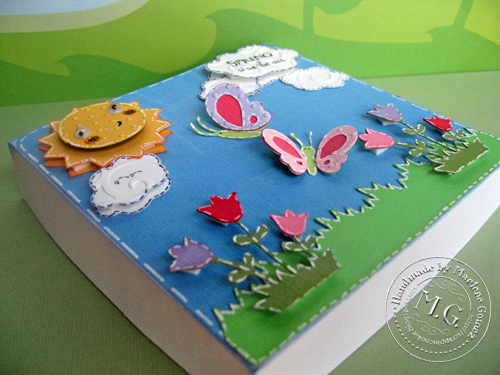 This Spring Canvas will also be submitted to the following challenges:
*Cricut Chirp Newsletter
and some others I can't remember right now...