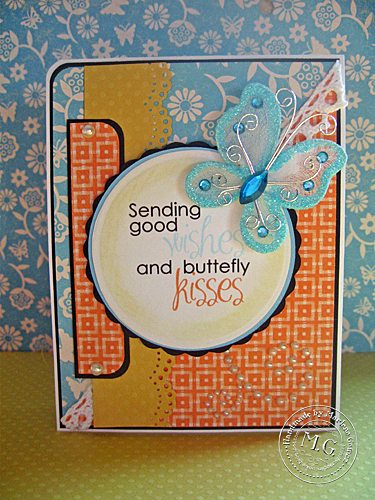 Cricut Expression, Cricut Alphalicious, Bazzill Swiss Dots Cardstock, Colorbok Paper(blue), Little Yellow Bicycle Paper(orange), The Paper Company Cardstock(black & white), Raindrop Echo Digital Sentitment, Martha Stewart Doily Lace Punch, Nestabilities Lg Circle Dies, Recollection Pearls, Misc - Butterfly, Lace
Today's card was inspired by three different challenges.
The first was
Mojo Monday's 181 CONTEST
sketch challenge. I wasn't planning on using a butterfly, but as I searched my digital sentiment stash, I came across the Butterfly Wishes sentiment and thought it would be perfect for this sketch.
The sentiment then reminded me of the
Sentimental Sunday's Challenge #45
to use Pearls and Lace. Automatically the triangular border and flourishes on the sketch yelled Pearls and Lace to me.
I had planned to use a Circut Butterfly die-cut, but I found some BEAUTIFUL butterfly embellishments at a local party supply store(ONLY $0.50!) and knew they would go perfectly with my card.
Later in the day, I got an email from
Colour Q's Challenge #75
to use the colors
Daffodil Delight, Pumpkin Pie, Cool Caribbean, Black and White(SU! Colors)
. And before I knew it, the card came together.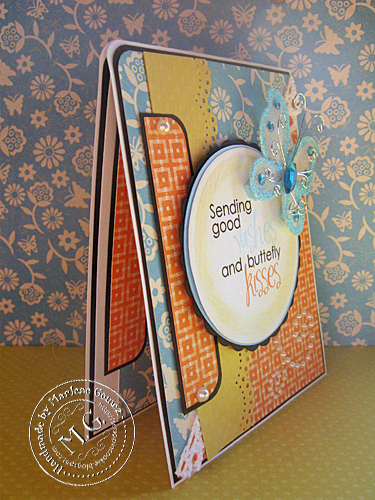 The pearl swirl on the lower right corner was designed using a template I found online and then placing each pearl individually.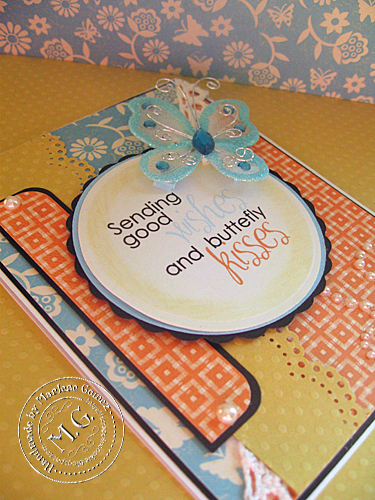 I don't use SU! cardstock, so I did my best to match the colors to papers I had. I used a sheet from Colorbok - blue one with butterflies and flowers - and Little Yellow Bicycle's "Geometric Orange" from their Baby Safari Boy Collection. Matched it with some Bazzill yellow Swiss Dots cardstock. I think it does the trick, right?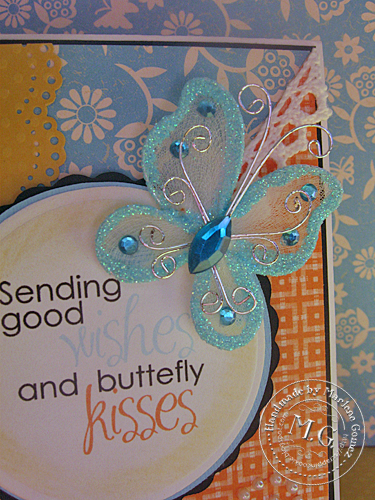 I used my Lg Circle Nestibilities to cut and emboss the white circle and the blue circle layer and scalloped circle were cut from the Cricut Alphalicious Cartridge at 2.875"(real dial size) & 2 5/8". I printed my sentiment from a freebie at
Sentimental Sunday's
. Which after editing my pictures, I noticed that the word "Butterfly" is spelled incorrectly.
Oops!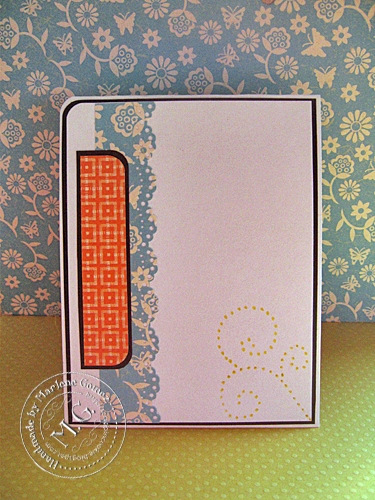 I carried the sketch to the inside of the card, also. Again, the swirl was made using a template and a yellow Color Pencil! - my yellow paint pen ran out. I left it blank until the occasion calls for a more personal message.
That's all for today, but stop by tomorrow for a few more challenges.
TFL!