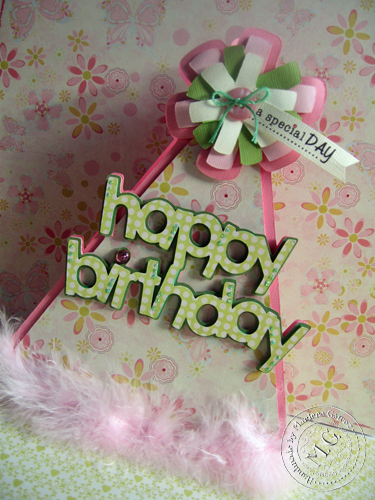 Cricut Expression, Cricut Design Studio, Cricut Doodlecharms Cartridge, Cricut Simply Charmed Cartridge, Bazzill 'Berry Blush', 'French Vanilla', 'Parakeet', 'Piglet' Cardstock, K&CO 'Lovely' Specialty Paper, Craft Boa Pink Feathers, Dew Drop, Stickles 'Eucalyptus', DMC Floss, One Year Older WordArt by VKA Designs, Misc - Button



Its Monday and that means its time for another
Fantabulous Cricut Challenge Me Monday
! This week Challenge Me Monday #52 is all about
BIRTHDAYS
! All you have to do is create a card or project based with a
BIRTHDAY
theme.
I think FCCB's Challenge Me Monday #52 -
BIRTHDAYS
is perfect for this month of March. It seems to
ME - my personal opinion
- that there are more people with a March birth date than any other month. My dad's birthday was on March 5th, my birthday was on March 14th, and
Robin's
birthday - founder and creator of
Fantabulous Cricut Challenge Blog
- is
TODAY
! So if you get a chance, go on over to her blog,
Robin's Creative Cottage
and wish her a
VERY Happy Birthday
!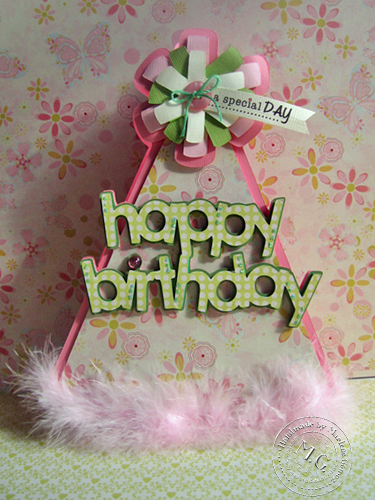 Since I've been in "Party Mode" since the month started I decided to create a Shaped Card with TONS of layers. The card measures a whooping 8 3/4" high! The party hat is from the Cricut Doodlecharms Hat, the "happy birthday" is from the Simply Charmed Cartridge and was all welded together using the 'Shadow Feature' with Design Studio.
It has a total of 5 layers. In between each layer I used my home-made dimensionals. You can barely see them since I used the foam of the same color as the previous layer. This way the
dimensionals
aren't so distracting when viewed from the side.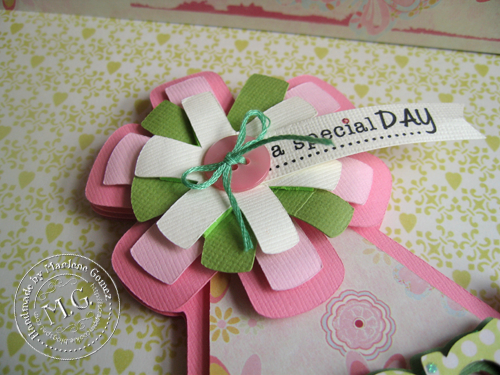 For the "Pom Pom" of the hat I used 4 different sized layers. I started out with an 8" shadowed 'hat-s'(dark pink), then layered on a 8" 'hat-s'(light pink), then a 7" 'hat-s'(green), and finally a 6" 'hat-s'(vanilla), hiding the hat portion with DS. Added a green threaded button to the center and sentiment banner. The sentiment is from the
Another Year Older WordArt collection
by
Verena Karolyi
.
Confused?
No worries. I have included everything into a
CUT File
available via comment request
below.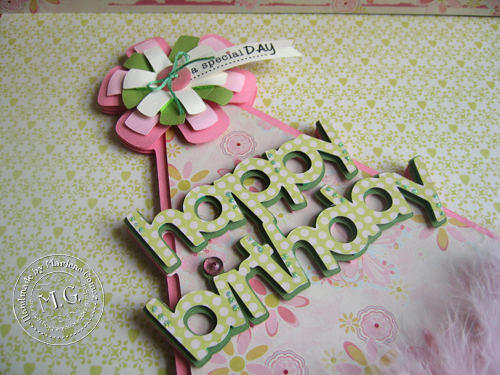 I felt the card needed some BLING - after all it is for a BIRTHDAY - so I added a few touches of 'Eucalyptus' Stickles to the 'happy birthday' sentiment. I also replaced the dot of the "i" for a pink Dew Drop. To the bottom of the "Birthday Hat" I added some pink feathers I picked up from AC Moore.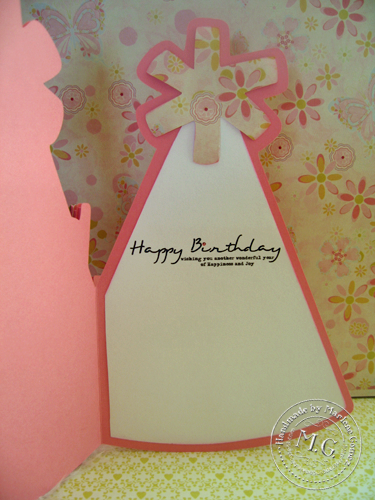 Now it's YOUR TURN! Head on over to the
Fantabulous Cricut Challenge Blog
and see all the other great inspriation provided by the rest of the DT. Don't forget to link up your
BIRTHDAY
card or project by
Sunday, March 27th at 11:59 EST
for your chance to win or be part of the Top 5!
Birthday Hat CUT File
Items Needed:
*Cricut Expression & Design Studio
*Cricut Doodlecharms Cartridge
*Cricut Simply Charmed Cartridge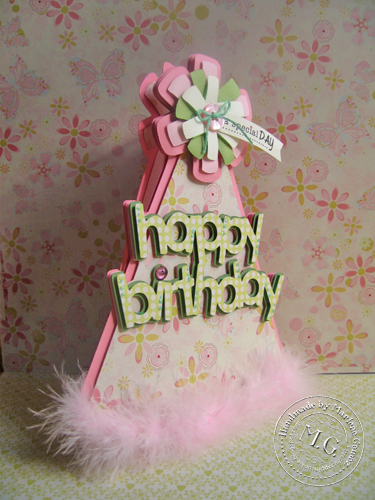 Cut File is available via comment request. The .cut file comes in the form of a .zip file and includes pictures, TOU, and .cut file. Due to the time spent on this .cut file, I would greatly appreciate if you were able to DONATE a little somethin' somethin' when requesting the file.
Thanks!