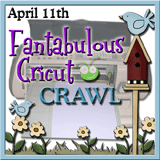 Mark Your Calendars for Monday, April 11 2011! At the Fantabulous Cricut Blog, we will be having our fifth Fantabulous Cricut Crawl...Fantabulous Cricut's version of a blog hop!
There will be PRIZES along the way at some of our DT members' blogs, AND
there will be a Grand Prize up for grabs at FCCB.
So make sure to mark your calendars and check back on Monday, April 11th for more information.