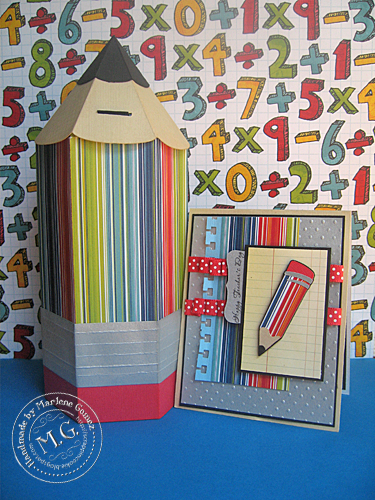 Supplies Used:
Cricut Expression, Cricut Design Studion, PencilBox_ScrappinCookie, Cricut Locker Talk Cartridge, Bazzill Cardstock, Scenic Route 'Appleton' Collection, EK Success 'Binding Edge' Punch, WordArt by Bethany
Hello,
I hope everyone had a good Mother's Day! We went out for breakfast, with my Mom, Dad, and Sisters. Later we went to my MIL's for lunch/dinner. It was a simple, yet pleasant day.
~*~
I can't believe that school is almost over and that the kids will be out for Summer Vacation. This could only mean TWO things - headaches and
TEACHER GIFTS
. And that's what
FCCB's Challenge Me Monday #59
is all about - no not the headaces -
TEACHER FEATURE
. All you ahve to do this week is make a special project for a teacher with the color
RED
on it - make sure to include at least
ONE
Cricut Cut.
Today's project is one that I've actually been holding off on showing you 'til today. My son's teacher is always saying how the "Pencil Monster" comes into the classroom to eat her student's pencils while they are away. So I decided to make her a Pencil Box to hold all those pencils safe, for Teacher's Day last week on May 3rd.
The idea generated after seeing
Illina Crouse's First Day Ensemble
at SplitCoast Stampers. I designed my own Pencil Box using the Plantin SchoolBox cartridge and Design Studio. My Pencil Box measures about 4" x 11" - this is a rough estimate since I no longer have the Pencil Box handy.
The "point" of the pencil is kept closed using a little tab that sticks out and fits into a slit on the "point". Hope that makes sense.
I also made a matching card - sorta. I used this week's
MFTWSC #17
- I'm just loving these sketches. The pencil is from the Locker Talk cartridge. I cut the "shadow" at 1", but the layers had to be resized with DS, the original size by the cart didn't fit properly - they were too big.
For the inside of the card, I used a WordArt sentiment from WordArt by Bethany.
Now, its YOUR turn! Create a project using the color RED for a special TEACHER and link it up to the Fantabulous Cricut Challenge Me Monday post by May 14th at 11:59 PM EST for your chance to win this week's prize.
*items required
*Cricut Expression
*Cricut Design Studio
*Cricut Plantin SchoolBook Cartridge
Cut File is available via comment request. The .cut file comes in the form of a
.zip file and includes pictures, TOU, and .cut file. Due to the time spent on this .cut file, I would
greatly appreciate
if you were able to
DONATE
a little somethin' somethin' when requesting the file.
Thanks!