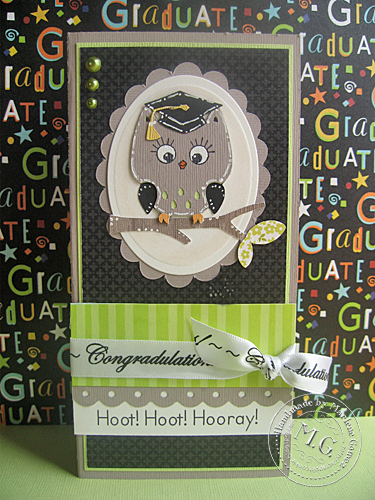 Supplies Used:
Cricut Expression, MoneyHolder CUT File_ScrappinCookie, Cricut Create A Critter Cartridge, Cricut Storybook Cartridge, Cricut Locker Talk Cartridge, Bazzill 'Stonehedge' Cardstock, The Paper Company 'Whipped Cream' Cardstock, K & CO 'Graduation' Specialty Paper, Fiskars 'Threading Water' Punch, Queen & CO 'Lime Green' Pearls, Nestabilites Oval Dies, Pink Cat Studio Sentiment, Misc - Ribbon
~*~
Hi Everyone,
Remember how I said I had no need for graduation cards this year? Well, turns out that my Niece(really, DH's) graduates 8th grade this coming June. When I found out, I knew exactly what kind of card I wanted to make - a Money Holder.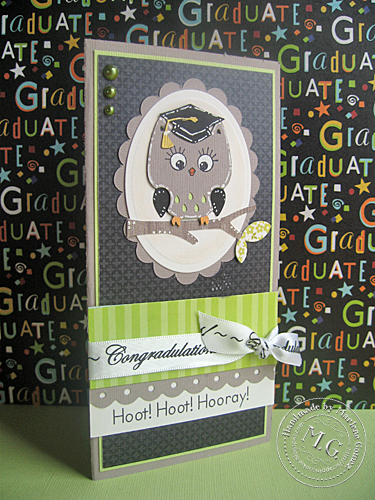 I remembered seeing the perfect sketch to go with my idea -
Sweet Sunday Sketch #117
. The TALL design, just called Money Holder to me.
I don't use Stampin' Up cardstock, so I matched my Bazzill cardstock as close as possible. I used BlackBird, Limade, & Stonehedge.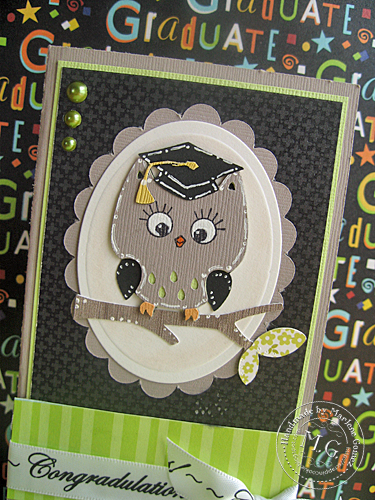 The Owl is from the Create A Critter Cartridge cut at 1-1/2". I made the branch a bit smaller by cutting it at 1-3/8". The Graduation Cap is from the Locker Talk Cartridge and was resized with DS to 1.195" x .78" to fit the owl. I used my Peachy Keen Critter Faces Med. Set for the owl's eyes. I also did some white doodling around the owl, branch and cap. I'm not to happy with the way that turned out, guess I better practice some more.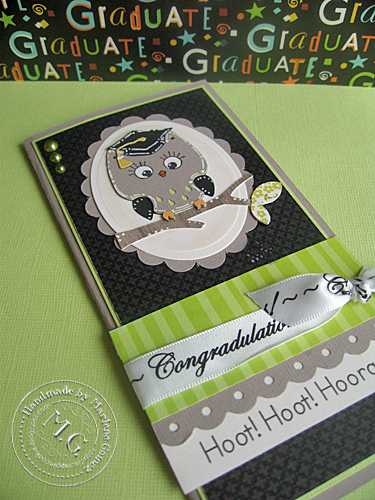 The sentiment is from
Pink Cat Studio
and is available for FREE. I used PSE8 to rearrange the words into one line instead of a cluster.







Now, on to the Money Holder part of the card. I designed it using Design Studio and Plantin SchoolBook.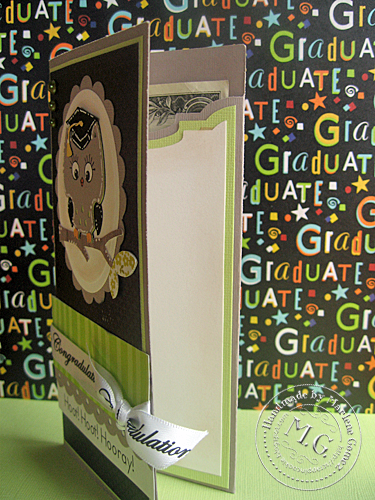 There also is an option to use the Birthday Bash Cartridge for a more decorative opening, as shown on my card.












There is enough room to fit a few dollar bills, check, savings bond, etc and a personal message.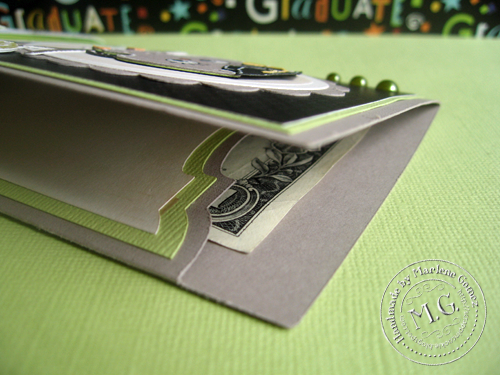 This would make a great gift for any graduate - Pre-K, Kindergarten, Middle School, High School, and even College. Who doesn't need a few extra $$?
items required:
*Cricut Expression
*Cricut Design Studio
*Plantin SchoolBook Cartridge
*Birthday Bash Cartridge (optional)
Cut File is available via comment request. The .cut file comes in the form of a
.zip file and includes pictures, TOU, and .cut file. Due to the time spent on this .cut file, I would
greatly appreciate
if you were able to
DONATE
a little somethin' somethin' when requesting the file.
Thanks!