Happy Sunday Everyone!
If you're looking for Birthday Sundaes Challenge #12, click here!
I've never been more anxious for a Sunday to come than this past week. Last Sunday, I announced my acceptance into the
Sentimental Sundays
Design Team.
Confused?
Yes, I've been lucky enough to be selected to be part of another wonderful Design Team - a Sentimental Sunday Design Team - and BLOGGER ate the post where I announced it, as well as a few others. Anyways, since then I've been so excited and "patiently" waiting for June 5th. So without further ado, I give to you my very
FIRST Sentimental Sundays DT project!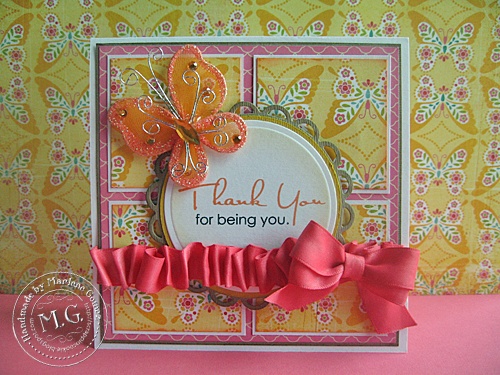 Supplies Used:
Cricut Expression, Cricut Plantin SchoolBook Cartridge, Bazzill 'QuickSand', 'Yucan Gold' Cardstock, The Paper Company Cardstock(white), Pebbles Inc 'Twitterpated - Sweetheart' Paper(pink), Basic Grey 'Urban Prairie - Patchwork Quilt' Paper(butterflies), Nestabilities 'Scalloped Circles', 'Lg Circles' Dies, Gratitude Sentiments_RaindropEchoDesigns, Misc - Butterfly, Ribbon. Finished Card Size: 5.25" x 5.25"
~*~






Create a project inspired by your playlist or favorite song, simply take inspiration from a SONG!






Once I heard this week's challenge, I immediately remembered my
"Just the Way You Are" layout
made in the Fall 2010, which was also inspired by a song. Actually, its the SAME song -
'Just the Way You Are' by Bruno Mars.
I love how the song is dedicated to a woman telling her she is
PERFECT
just the way she is. That there is no need for any changes, that she is loved just how she is.
Today's card is based of this week's
MFT WSC Getting Sketchy Challenge #22
. Since I can't get enough of my Cricut Expression, I used the Plantin SchoolBook cartridge to cut out a 2.937" circle to give an extra layer between the sentiment and scalloped mat.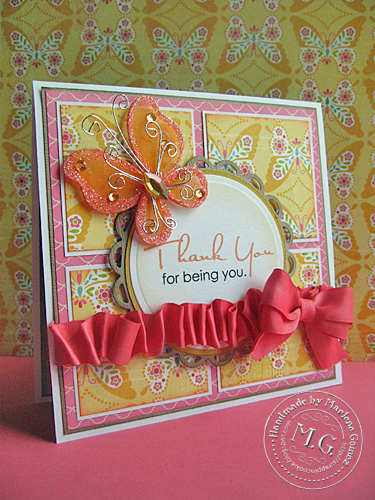 The color combination was inspired by the
ColourQ Challenge #87
.
I simply replaced SU!'s Soft Suede for Bazzill's QuickSand Cardstock.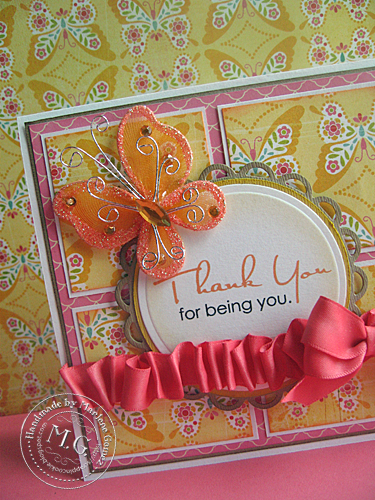 The butterfly is from a locally owned party supply store, where they make several different favors for parties and weddings. I love stopping by to see what new ribbons, flowers, or butterflies they have in stock.
Keeping with my "Just the Way You Are"
INSPIRED SONG
card, I used a digital sentiment from the
Gratitude Sentiments
by Raindrop Echo Designs by Ann Vento. Ann has lovely sentiments in both Digital and Rubber, to see more of her visit her store at
Whimsy Stamps
.
And lastly, but not least the inside of the card. I used the same sketch to decorate the inside of the card.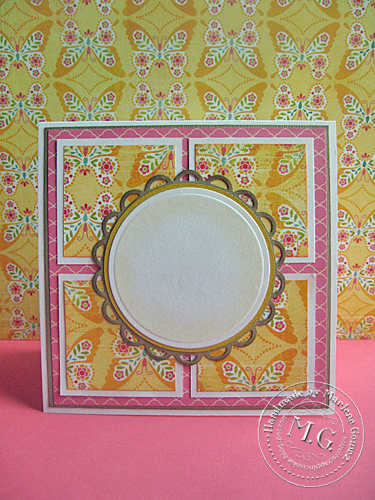 Now, its YOUR TURN! What SONGS INSPIRE you? Be sure to check out the rest of the Sentimental Sundays INSPIRED SONGS projects. And don't forget to link up your project by Saturday, June 11th at 11:59pm EST for your chance to win this week' prize.
~*~
This card will also be entered into the following challenges: