Hi Everyone!
Welcome to Day #2 of Artful Delight's Birthday Bash Blog Hop!!
THANK YOU all for your SWEET comments on yesterday's post!
If you happened to miss Day#1, NO PROBLEM the Hop doesn't end til tomorrow and challenges will be open 'til Friday, September 30th!! Simply visit the Artful Delight Blog,
HERE
.
If you've come from
April's Blog
, then you're heading in the right direction. If you just happened to come across my blog and would like to play along with our
"Birthday Bash" Blog Hop
, start
HERE

.
There is ALOT to celebrate this weekend. Not only is Artful Delight introducing the NEW DT, but its also Leeanne's - Artful Delight's Founder - birthday!! Happy Birthday Leeanne!! What better way to celebrate than with games and prizes?!
We hope you can play along. For the next
TWO
days we will have a challenge each day. Play along with the challenges for your chace to win the
GRAND PRIZE!!!
We will end the weekend on Sunday with the October Kit reveal and our final challenge. However, challenges will remain open to play along with until
September 30th
. For more information, visit the
Artful Delight Blog
.
Make sure to check out each DT member's blog for some awesome inspiration! Don't forget to leave comments along the way because RANDOM commenters will be choosen for a chance to win prizes.
Ready for some FUN?
Here is the FIRST challenge of this 3-Day Blog Hop!
Simply pick any THREE elements that form a line and create a project based on them.
I decided on KRAFT, FALL THEME, and BORDER PUNCH. Here is what I came up with.
Supplies Used:
Artful Delight 'September' Kit(Jillibean Soup 'Apple Cheddar Soup' ("Milk", "Apple Cider", "Bite Size Bits") Collection; Crate Paper 'Farmhouse' ("Farmers Market") Collection; Bazzill (Walnut) Cardstock; Sunflower Embellishment); Bazzill Cardstock(French Vanilla); Jillibean Soup Corrugated Alphas(Kraft); Queen & Co. Pearls(Pearl), My Craft Spot(Lt. Blue Baker's Twine), Fiskars Border Punch(Threading Water). Finished Card Size: 5.25" x 5.25"
~*~
I apologize for the very dark pictures. Its been raining here for the past two days and there is only MORE rain in the forecast for the rest of this weekend. I haven't been able to get a decent picture.
~*~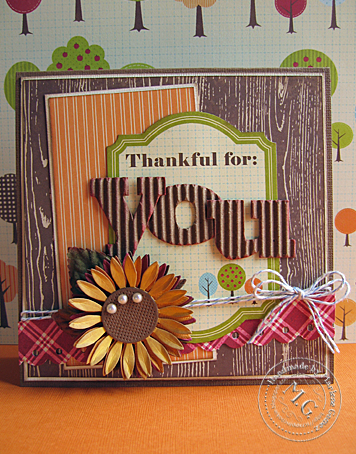 All these
BEAUTIFUL FALL
papers from the Jillibean Soup
"Apple Cheddar Soup"
Collection are included in the September Artful Delight Kit. There are still a few kits left, so don't wait any longer to get yours. Visit the
Artful Delight Store
now.
I opted to use some Jillibean Soup Corrugated Alpha's in KRAFT since I missed out on the American Thickers included with the September Kit.
I used my Fiskars "Threading Water" BORDER PUNCH to punch out a strip of the Crate Paper 'Farmhouse' "Farmers Market" paper.
My FAVORITE part of this FALL card, is the GORGEOUS Sunflower Embellishment(included in the kit) created by Delightful Designer Debbie!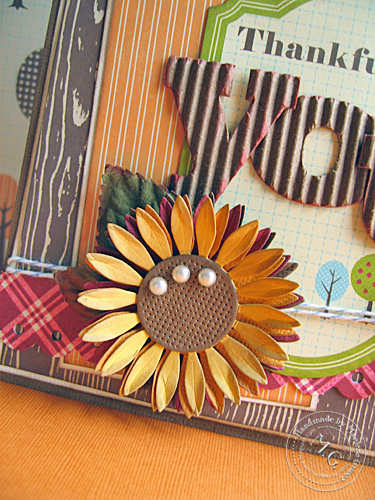 It has a total of 4 Layers and two Recollection Leaves. All edges are inked and its ABSOLUTELY beautiful. I simply added a few pearls from my stash for an extra touch.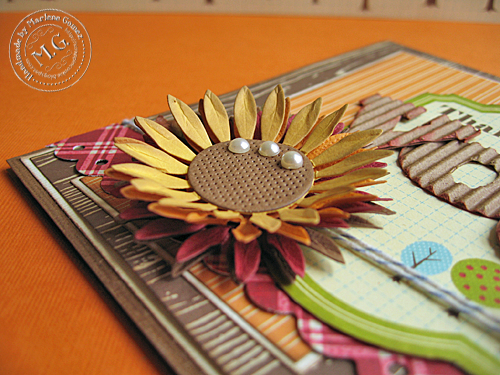 I complete the inside for that special feel touch.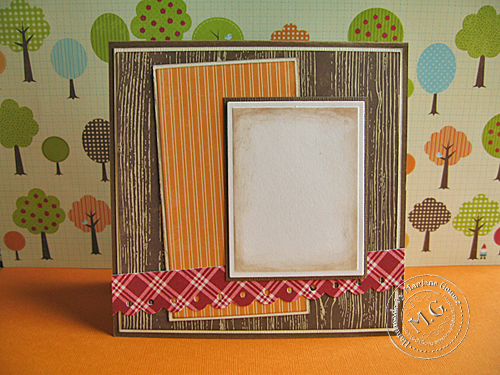 Ok, time to continue
HOPPING
. Your next stop is
Court's Blog
! If you should happen to get lost along the way, you can find the Blog Hop list over at the
Artful Delight Blog
. Don't forgot to leave comments along the way for your chance to win a
RANDOM COMMENTER PRIZE
.
But Wait!
Before you leave, I have some "Birthday Bash" Coupons for you.
Use coupon code BDAYBASH for a 34% discount on the purchase of a PRE-PAYMENT Subscription.
Use coupon code BDAYBASH15 for a 15% discount on ANY purchase over $23.00.
Be sure to come back tomorrow for Day #3 of the "Birthday Bash" Blog Hop!!