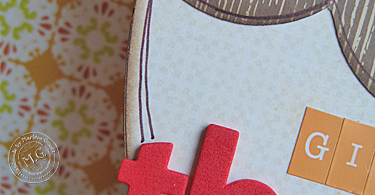 Supplies Used:
Cricut Expression, Cricut Cartridges(Accent Essentials, Create A Critter), Artful Delight September Kit(Crate Paper Farmhouse Collection), My Craft Spot("Gingerbread" Crinkled Ribbon, "Thanksgiving" Bakers Twine), My Little Shoebox(Alpha Stickers), Queen & Co Pearls(Pearl), Misc - Thickers.
~*~
For Sentimental Sundays Challenge #81, CLICK HERE
Hi Everyone!
Welcome to The
Fantabulous Cricut's
SIXTH
Fantabulous Cricut Crawl
...Fantabulous Cricut's version of a blog hop!
It's Fall and everyone at Fantabulous Cricut has decided to create projects to give thanks for our
Harvest Blessings
!
Each Design Team member will be featuring an original Fall project that includes
Brown

,

Orange

and

Red
– along with at least one Cricut cut.
If you've come from
Lisa's Blog
then
you're in the right place! If you've just happened across my blog and would like to play along with our Fantabulous Cricut Crawl, start
HERE
.
Make sure to check out each DT member's blog for some awesome inspiration! There will be
PRIZES
along the way at some of our DT members' blogs, AND there will be a
Grand Prize up for grabs at FCCB
for one participant that submits a "Harvest Blessings" project at FCCB!
For my HARVEST BLESSINGS project, I created a GIVE THANKS album.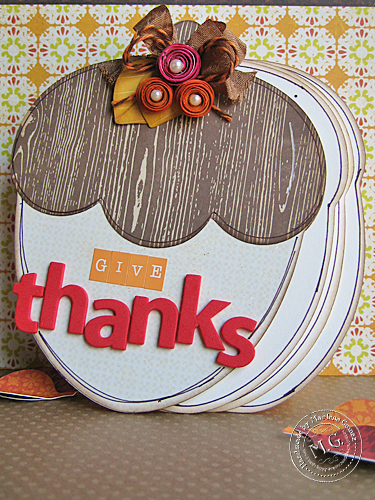 Inspired by the card on the Nov/Dec Cricut Magazine Cover, I created this acorn GIVE THANKS Album as a way to write down all the things my family and I are THANKFUL for and appreciate in our lives. The kids are getting bigger everyday and I want them to start appreciating the things that surround them.
The acorn is from the Cricut Create A Critter Cartridge(pg.32) cut at 6-3/4" using papers from the Artful Delight September Kit.
I created a quick embellishment constiting of "Gingerbread"(BROWN) Crinkled Ribbon and "Thanksgiving"(BROWN & ORANGE) Baker's Twine from My Craft Spot. Three Rolled Flowers made using the swirl(pg.?) from Accent Essentials in ORANGE and RED with two small leaves from the same cartridge.
I used some My Little Shoebox Alpha Stickers and Misc Thickers I had in my stash for my title.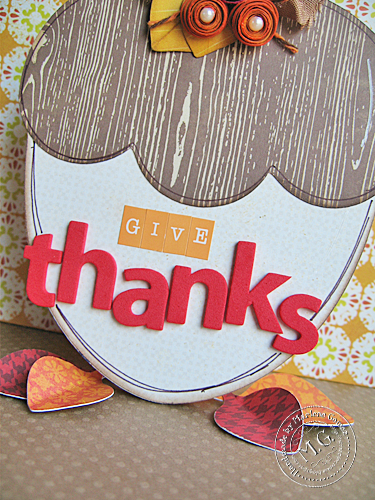 I cut out 4 more acorns from white cardstock and quickly ran them thru my printer. The pages were left without lines so that everyone can add thier own special touch.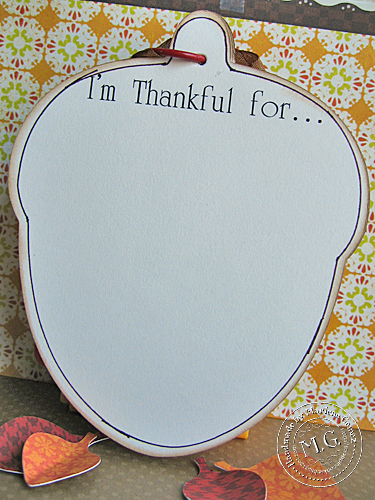 Its all held together with a small RED binder ring.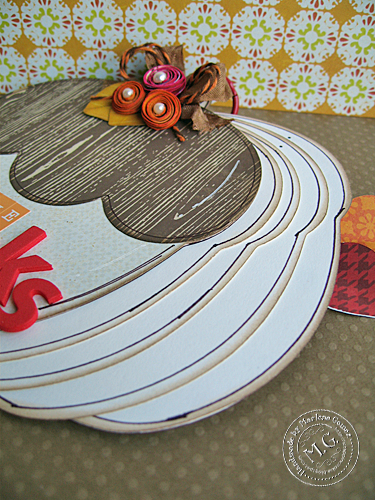 I hope you've liked my GIVE THANKS album and some inspiration from it.
Now, what is a HARVEST BLESSING without a GIVEAWAY?!
PICTURE COMING SOON!
1) You MUST be a FOLLOWER or sign up for EMAIL UPDATES.
Email address needs to be verified.
Do both an get an EXTRA entry.
2) You MUST participate in the Fantabulous Cricut HARVEST BLESSING.
3) You MUST leave a comment here with contact information.
I will leave this GIVEAWAY open 'til Sunday, November 20th 11:59 PM EST. I'll announce the winner on Monday, November 21st.
Now it's your turn! Let's see your
Harvest Blessings
projects! Make sure to include a Cricut cut somewhere on your project and be sure to use the colours
Brown
,
Orange
and
Red
as well!
Next stop is
Melanie
from
Melanie Makes
. Go see what she has in store for you today... And when you're done, make sure to link up your project to
FCCB's Fantabulous Cricut Crawl
post to be entered into the contest!













Happy Crawling!