Supplies Used:
Cricut Expression, Cricut Cartridges(Cricut Craft Room Basics, Cricut Craft Room Picks and Pennants, Create-A-Critter, Birthday Bash), Bazzill Basics(North Sea), Scenic Route(Appleton Collection), Cosmo Cricket(The Boyfriend - pencils, lines), My Little Shoebox(Mini Alphabet Sticker - Lemon Pie), Misc(Ribbon, Strawberry Container).
~*~
For My Craft Spot's Challenge #54, CLICK HERE
~*~
Hello Everyone!
Welcome to The Fantabulous Cricut's SEVENTH Fantabulous Cricut Crawl...Fantabulous Cricut's version of a Blog Hop!
In honor of our Home Planet Mother Earth, we're having a "SAVE THE EARTH" Crawl..each Design Team Member will be featuring an original Upcycled-Themed Project that includes at least one Reusable/Recycled Item along with at least ONE Cricut Cut.
If you've come from visiting
Kate's Blog at Small Bits of Paper
, you're in the right place! If you've just happened across my blog and would like to play along with our Fantabulous Cricut Crawl, start
HERE.
Make sure to chedck out each DT member's blog for some awesome inspiration! There will be PRIZES along the way at our DT Member's Blogs, AND there will be a GRAND PRIZE up for grabs at FCCB for one participant that submits a "SAVE THE EARTH" project at FCCB!
How fun is that?!
~*~
For my Upcycled-Themed Project, I re-purposed an empty Strawberry Container.


Both of my little boys are collecting Box Tops for their school and these Box Tops tabs are ALL OVER my kitchen! If you have kids in grades K-8 you KNOW what I'm talking about. They are ALL OVER the place - in drawers, on the table, in the cookie jar, etc - so I knew I had to do something about it.
I always have several fruit/vegetable containers sitting in the recycle bin and that got me thinking. The Strawberry Containers would be a PERFECT holder for these Box Tops. They are big enough to hold several Box Tops - especially during the summer - and even have a little slot opening to just drop in the Box Tops tabs.
They open/close easily, so removing the Box Tops isn't a problem at all.
The polka dot ribbon about the container is also RECYCLED. It was part of another package I got as a present and saved it for later use.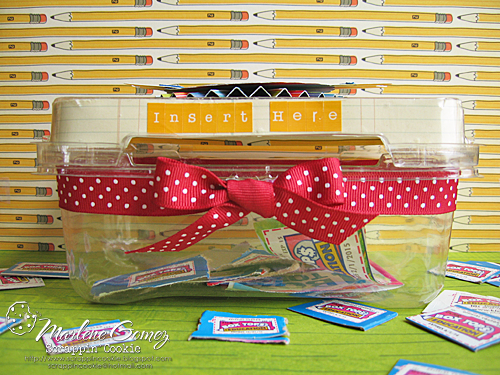 The lid was embellished with papers from the Scenic Route Appleton Collection(discontinued) and Cosmo Cricket The Boyfriend Collection(discontinued).
The pennants were cut from the Cricut Craft Room Party Picks and Pennants at 1.5" and 5/8" REAL. The scalloped circle is from the Cricut Craft Room Basics cut at 3" REAL. The letters were cut at .5" from the Cricut Birthday Bash Cartridge. And the apple is from the Cricut Create-A-Critter Cartridge cut at 1.25".
Now it's your turn! Let's see your Upcycled-Themed projects! Make sure to include a Cricut Cut somewhere on your project!
Now, what is a "SAVE THE EARTH" Crawl without a GIVEAWAY?!
PICTURE COMING SOON!
Be sure to leave ONE comment per request!!
1) You MUST be a FOLLOWER or sign up for EMAIL UPDATES.
Email address needs to be verified.
Do both an get an EXTRA entry.
2) You MUST participate in the Fantabulous Cricut "SAVE THE EARTH" Crawl.
3) You MUST leave a comment here with contact information.
I will leave this GIVEAWAY open 'til Sunday, May 6th 11:59 PM EST. I'll announce the winner on Monday, May 7th.
Next stop is
Megan's Blog at
Saxey Designs
. Go see what she has in store for you today... And when you're done, make sure to link up your project to FCCB's Fantabulous Cricut Crawl post to be entered into the contest!
Happy Crawling!