Supplies Used:
The Paper Company(Red, White), My Mind's Eye(On the Sunny Side), WhimsieDoodles(BerryMuch Digital Stamp), My Craft Spot("Twisted Lime" Trendy Twine), Misc(Mulberry Flowers). Finished Size: 4.25" x 5.5".
~*~
For the
Paper Issues' "PICNICS and PATRIOTS" Blog Hop
, click
HERE
.
For the FCCB Challenge Me Monday #117 - "BBQ TIME", click HERE.
For the My Craft Spot Monday Challenge #61 - "HOT SUMMER COLORS", click HERE.
~*~
Hello Again!
I almost forgot to show you the card I made with the ADORABLE digital stamp my no-longer preschooler colored in.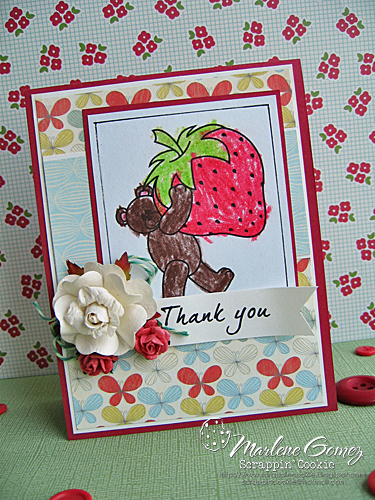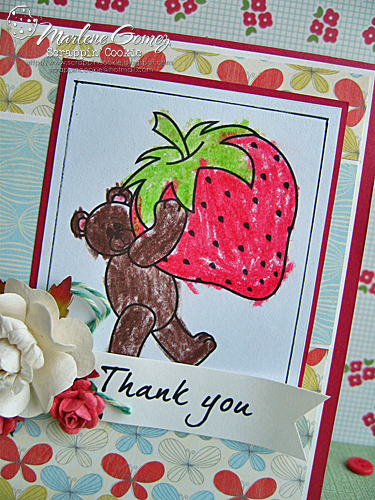 For the inside of the card, I recolored the digital stamp using MS Word and printed it out in a smaller size adding the remaining sentiment beside it. Please excuse the "red strips", they are there for privacy.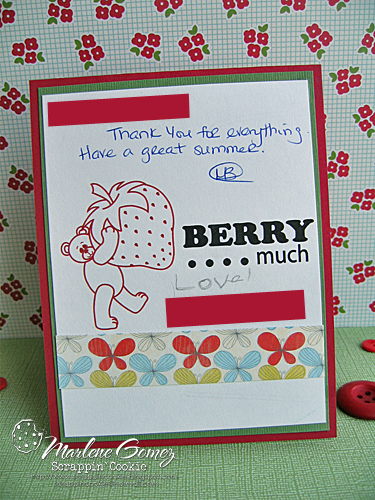 The card was tucked in along with the BERRY BASKET and BERRY SMOOTHIE.
Thank You for joining me for this End of Year Teacher Gifts 2012 Collection!