Hello Everyone!
Welcome to Shop Pumpkin Spice's April 2013 Blog Hop!
Spring is starting to make its appearance around. Its been slow coming, but its getting here. In my area we are starting to enjoy a few afternoons of warmer weather and just yesterday I saw a FULL row of grown Daffodils.
If you've come from
Saundra's Blog - Luv Scrapping Together
, you're in the right place! If you've just happened across my blog and would like to play along with our
Shop Pumpkin Spice April 2013 Blog Hop,
start
HERE.
Each Design Team Member will be featuring an original project using products found at the
Shop Pumpkin Spice Store.
Make sure to check out each DT member's blog for some awesome inspiration!
In addition, its time for ShopPumpkinSpice's Weekly Challenge #14!!
Thi week's challenge is all about celebrating with EGGS! Simply make a project including an EGG or EGGS - interpreted ANY way you'd like.
~*~
With the weather in the afternoons and all the birds chirping, I was inspired to create a quick Spring EGG Shaped Card.
This adorable little chickie in
EGG
is from the Cricut Simply Charmed Cartridge cut at 4.5". I cut the
EGG
shell from some
Carta Bella's Natural White Linen Cardstock
- just LOVE this cardstock's texture - and then sprinkled some Martha Stewart Glitter. I layered a piece of Echo Park's Sweet Day pattern paper underneath the "EGGshell" for a quick design look.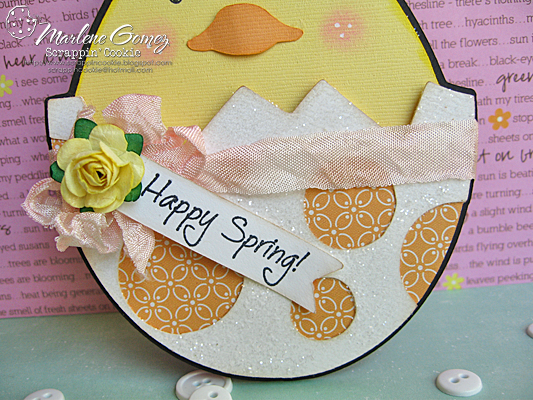 I tied some "Petal Pink" Crinkle Ribbon from My Craft Spot around the "
EGG
shell" and tucked in a sentiment strip underneath a yellow
Prima Mulberry Rose.
I hope you are still with me and have enjoyed my
SPRING EGG SHAPED CARD
using just some of the wonderful products you can find at
Shop Pumpkin Spice
.
I'd LOVE to hear what you think of my SPRING EGG SHAPED CARD so be sure to leave me a comment.